Alibaba, down 8% this month, could see a big move on earnings, traders say
May 15, 2019
Posted by:

consortiumconsultancy

Category:

Uncategorized
Traders appear to be taking profits in Alibaba ahead of earnings.
While the options market saw higher call activity ahead of the e-commerce company's earnings report Wednesday morning, generally a bullish signal, most of those calls were actually being sold — a sign that traders might be getting cold feet ahead of the results, says Dan Nathan, principal at RiskReversal.com.
"When you see the stock down as much as it was, call activity was running really hot — it was three times that of puts — but, interestingly, it looked like there was a lot of closing selling of calls in May and June," Nathan said Monday on CNBC's "Options Action."
"Those were possibly people who were set up for some sort of China trade deal in this period, owning calls or call spreads, and closing out of them with the stock now below those levels and with the earnings coming up," he explained.
The options market is implying a higher-than-usual 5% move in either direction for Alibaba's stock after earnings, so traders likely decided that a 5% move downward wasn't worth the risk, said Nathan, who also appears as a trader on CNBC's "Fast Money."
The most active strikes being sold were the May $180 and June $190 calls, he said, which meant people weren't convinced that the next few months would bring more gains for the $174 stock.
"Listen, this stock has traded pretty well this year. It's up 24% on the year. It's up 30% from its 52-week lows in December. When you look at that, though, it's right there on some pretty key support," Nathan said, pointing to Alibaba's five-year chart.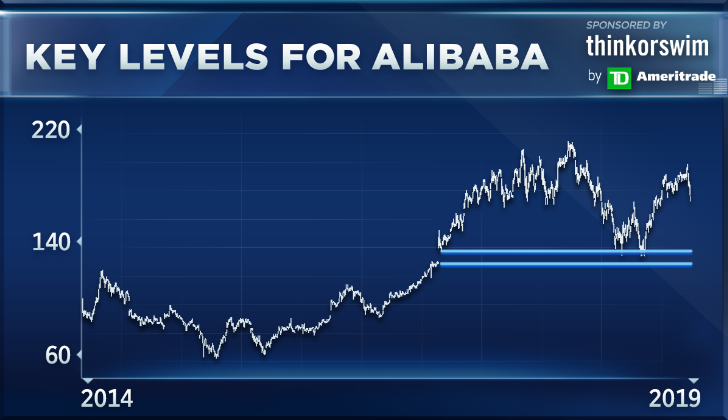 "If you look at it on a five-year basis, that just kind of heightens what we would say is that massive, massive support at that double bottom from late last year," he said. "They better put up some good numbers to keep it around here."
Despite the market noise, Seymour Asset Management's Tim Seymour didn't want traders to put too much emphasis on the Chinese-based company's ties to the U.S.-China trade war, he said in the same "Options Action" segment.
"It's domestic Chinese," Seymour, who is also a "Fast Money" trader, said Monday. "What we want to hear on these numbers are Taobao and Tmall and the guidance that we're going to get on 2020, and they're probably going to give you north of 30% [gross merchandise volume] guidance, which I think is certainly attractive to own this. … I think BABA, at this peg ratio, is very attractive."
Alibaba shares climbed Tuesday, gaining more than 2% in the first half of the trading session. The stock is up more than 26% year to date.
Source: CNBC